Ocean-proof dining & wining
It takes just one small wave to cause a cute little breakfast or full dinner to slide off the table. So you are well-advised to use nothing but unbreakable plates and glasses on board. Preferably anti-skid, to ensure you ocean-proof dining.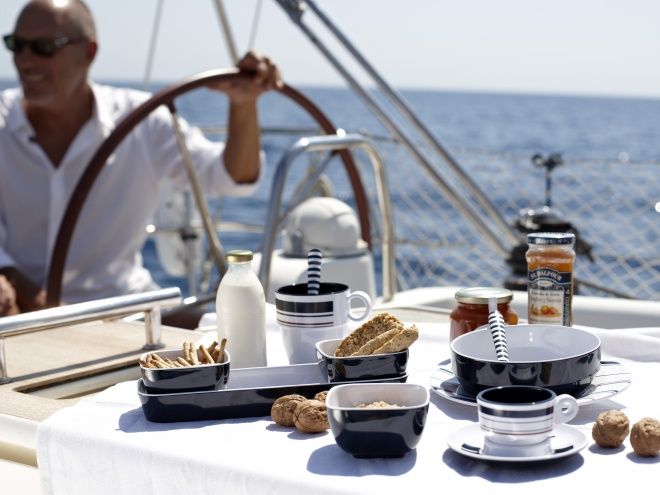 Unbreakable glasses
Spanish brand Marine Business is among the world's largest suppliers of unbreakable dinner services and glassware. In addition to Melamine plates, mugs and bowls Marine Business also brings a wide range of unbreakable wine, water and champagne glasses made of Tritan. Many of these unbreakable glasses by Marine Business are provided with an anti-skid sole to prevent them from sliding off table tops.
Tritan
Tritan is a plastic variety free from BPA and therefore harmless to your health. BPA-free in fact means that no Bisphenol-A was used during production. Tritan is an extremely strong, unbreakable material that has the added advantage of being fully dishwasher-proof. Moreover, its looks can hardly be distinguished from natural glass.
Unbreakable dinner services
On-board dinner services inevitably must be sturdy and hard-wearing, so porcelain plates must be advised against. A nautical lifestyle just demands unbreakable services. Marine Business can propose various dinner service ranges, varying from the nautical Northwind to the contemporary Sea range. Newcomers to the collection are the romantic Rosette and Harmony series that contain plates with a convincing earthenware touch. However, they are unbreakable because they are made from Melamine. These new series create a neutral impression, which makes them suitable not only for on-board purposes, but also for picnics or garden parties.
Melamine
Melamine is a hard-wearing, moulded material that has the advantage of being heat-resistant and moreover dishwasher-proof. It is unbreakable under conditions of normal use. Severe impacts, however, may cause Melamine plates to break, and the material is not fully scratch-resistant.
Non-slip
To make extra sure your dinner will not slide off the table, Marine Business added a non-slip ring at the bottom of the plates from the Monaco, Regata and Welcome On Board collection.
Palm Products
Palm Products is another supplier of unbreakable dinner services. It is an Australian brand that frequently invites and employs the world-famous Marc Newson for its designs. Its plates and bowls have a fresh and modern touch. The service is porcelain-white, with a coloured anti-skid ring as its base. Colour options are marine, orange, light-blue and black. The material used by Palm Products is Sorona.
Sorona
Compared to Melamine and other plastic variants, Sorona is scratch-resistant, unbreakable (even under severe impact), 100% recyclable and dishwasher/microwave-proof. Its composition contains 35% re-usable maize waste and it has a porcelain-like gloss.