New by Barebones: unbreakable enamel outdoor tableware
Lay your table in style with the Barebones Enamel tableware collection. The new outdoor 'Enamel' tableware by Barebones is made of high-grade enamelled steel. It is available in two colours: stone grey and creamy white. The speckled enamel coat of each item in this collection gives the tableware a classical vintage look. Each item is unique, thanks to its hand-finished, bronze-coloured stainless-steel rim. As the material is unbreakable it is perfect for use on board or when travelling.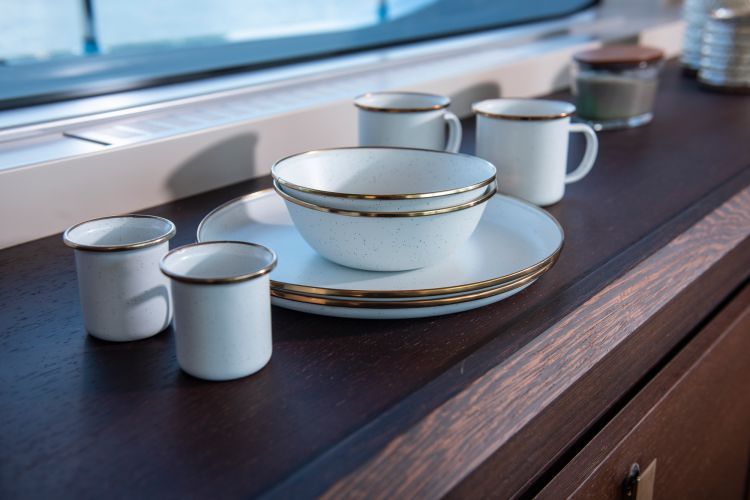 Outdoor products that last a lifetime
Barebones produces high-grade outdoor products that last a lifetime, and in a socially responsible and sustainable way. Barebones products are impact-resistant and made to last. The unbreakable Barebones ship's tableware is ideal for use on board or campsites or simply at home. Or on thrilling adventures out in the open.
Tabling in style
This robust but stylish tableware turns any breakfast, lunch or dinner into a special moment – wherever you are. In the Enamel tableware collection you find everything you need to compose a beautifully-laid table. Like breakfast and dinner plates, small bowls or large bowls, mugs and espresso cups. After all, there is nothing to beat an espresso served in a fine espresso cup! Other adornments of your ship's galley or home kitchen are the elegant whistling kettle, practical saucepan and a soup pan all found within the same 'Enamel' collection. The handle of the whistling kettle and the long handle of the saucepan are made of sustainably produced FSC-certified walnut. The tall soup pan is ideal for preparing all kinds of tasty soups and equally suitable for cooking pastas and greens.
Cleaning your enamel tableware
Enamel tableware cannot be put in the microwave or dishwasher. Enamel tableware remains at its best when simply washed by hand in warm soapy water. You are advised against using tough bristles or scouring aids, as they may leave scratches behind on your tableware.
Click here for an overview of the Enamel tableware collection.
About Barebones
Barebones is a certified B Corporation. This means that social and sustainable undertaking are essential for the company. These principles enable Barebones to contribute to a better world and to conform to the highest standards regarding social and ecological performance, transparency and statutory liability. The company for instance uses recycled (basic) materials and strives for long-term solutions that have a positive impact on its workers, the general community and the rest of the world.