Sorona Collection wins Red Dot Award 2016
Prize-winning design quality: The Sorona Plate and Bowl Collection triumphs in Red Dot Award: Product Design 2016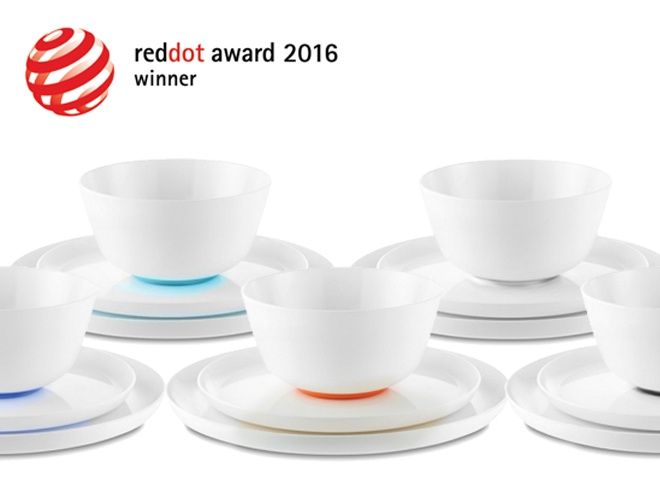 The Sorona Plate and Bowl Collection from Palm Products has just been awarded with the Red Dot, the international distinction for high design quality. Participants from 57 nations had registered about 5,200 products and innovations for the Red Dot Award: Product Design 2016. Only products which set themselves apart considerably through their excellent design receive the sought-after quality seal from the international Red Dot jury.

This is the 2nd Red Dot awarded to Palm Products, the first being for the Marc Newson Unbreakable Drinkware Collection in 2014. This is a significant achievement for a small company. It is a reflection of the values and innovative spirit of the staff and the support of key suppliers.

Robert Wilson was responsible for the Sorona Plate and Bowl Collection's design and technical development.

The Idea
The idea was to develop a beautiful collection that would give pleasure in use and be sustainable.

The aim was to achieve a significant advance in design, surface finish, functionality and sustainability over existing melamine and plastic crockery. In order to achieve this, two disruptive technologies were used.
The first disruptive technology was the use of a new super-tough, high density material called Sorona® from DuPont™. Scratch resistance limitations of existing plastic plates are practically overcome with Sorona's high density and toughness and with additives used on mobile phones. Sorona contains 35% renewably sourced material derived from corn waste in Kentucky USA.
The second disruptive technology was the use of advanced 2-material moulding to economically add an integral coloured non-slip ring and to enable a finish like fine-bone china.
The Sorona collection is the first in the DuPont world to use this material for a homeware product, probably the first to use scratch resistant additives and probably the first to integrally mould a non-slip ring.

In order to achieve Asian competitive costs, the range was designed for automated production and zero manufactured rejects. An advanced 2-material automated production cell was developed.

The technical challenges were substantial.

The resultant product has exceeded expectations – particularly its outstanding blemish free surface and its beautiful shapes.

The tooling was manufactured in Australia and the collection is produced at Palm's facility in Melbourne Australia.

It is already a commercial success being sold in Australia and exported worldwide.