Buying a boat chair: what to look for?
Foldable, swivelling, with or without leg, height-adjustable, armrests or not … There are so many different boat chair types for you to choose from. What your ideal type of boat chair is, depends on your wishes. To help you choose, this blog compares all boat chairs in our collection. Do you find it impossible to choose? Then do not hesitate and contact us, or a nearby dealer.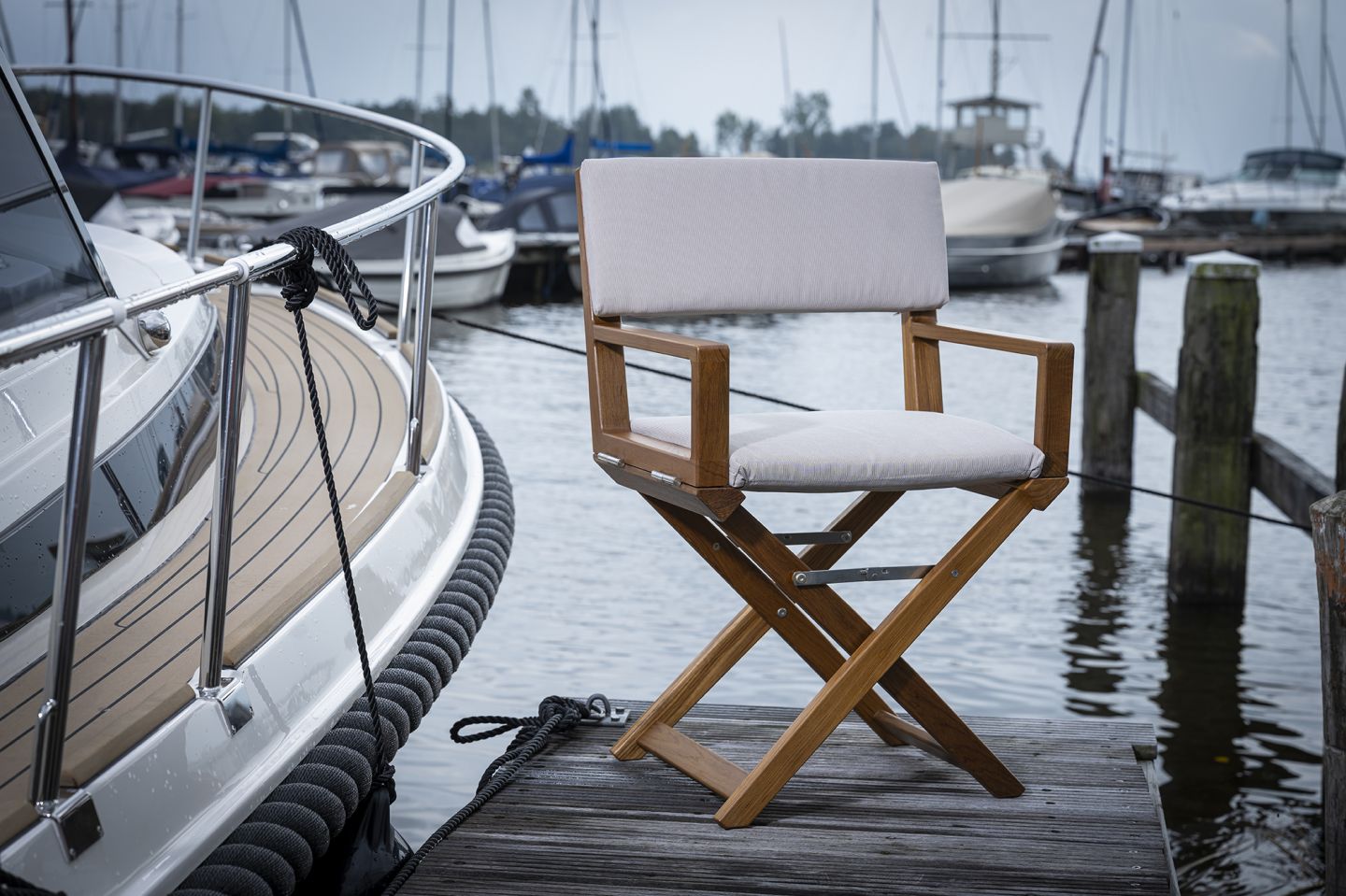 What director chair would you choose?
If you are looking for a foldable boat chair with a comfortable feel, a director chair would be ideal. ARC Marine has a wide range of director chairs for use on board. In the comparison below you will see an outline of all chair features.
Director chair I folds into a very compact unit, so that you may store the chair in a cockpit chest or cabinet. This teak boat chair with armrests comes with canvas fittings or cushions. The deluxe cushions provide additional comfort and are easily removed before folding the boat chair.
Director chair II has a slightly wider seat and straight legs for stable and robust sitting. In folded position however, this teakwood boat chair is less compact than Director chair I as its armrests are not foldable. This director chair is only available together with deluxe cushions in the colour of your choice.
Director chair The Edge is one of our latest models. Its straight contours give this deluxe boat chair a modern look. Like Director chair I, this chair also folds into a compact unit. Both the base and the armrests are foldable. This chair is available with sand-, navy- or anthracite-coloured cushions.
Director chair Victor has a powder-coated aluminium frame and teakwood armrests. The result is a lightweight chair that moves easily. Added advantage is that this lightweight boat chair folds into a compact unit in just one move. An ideal boat chair for use inside and outside!
Tip! Did you know we also have storage bags for all our director chairs? They keep your director chair clean and dry.
Looking for a helm seat?
If you are looking for a helm seat for your boat, you are likely to have other demands than you would for a standard boat chair. It may for instance be nice if a helm seat is adjustable in height and/or swivelling. ARC Marine has a varying choice of helm seats.
Tall director chair: our tall director chairs may be used as barstool or helm seats. This deluxe, teakwood boat chair comes in two variants.

Helm seat I

is the taller version of Director chair I and folds into a compact unit.

Helm seat II

is the taller variant of Director chair II and has a slightly wider seat and straight legs for stable and robust sitting. As the armrests of Helm seat II are not foldable, this chair folds less compactly than Helm seat I. Both helm seats are fitted with a footrest for extra comfort.

Boat chair with fitted leg: in our water sports web shop you will also see a

teakwood seat

that may be combined with an adjustable gas spring leg to create a helm seat that is adjustable in height. This would also be a good option if you are looking for a boat chair with a swivelling platform. With its rotating leg you will have a good view of the water from this boat chair at all times. Instead of a leg, you may also fit a

teakwood column

to support your separately available teakwood seat. It contains a drawer in which you may put away your utensils.
Would you prefer to see your chairs in 'live' version? Then come to our showroom, a shop-in-shop or a nearby dealer.