Teak boat furniture - care and maintenance
There is a reason of course why our boat furniture and accessories are made of teak. Teak lasts and is a weather-resistant wood species that needs little care. Yet, proper care and maintenance of your teak furniture is important for you to enjoy your teak furniture for a long time to come. Here you can find out about the best maintenance and care of your oiled or unoiled teak director chair, boat table and accessories.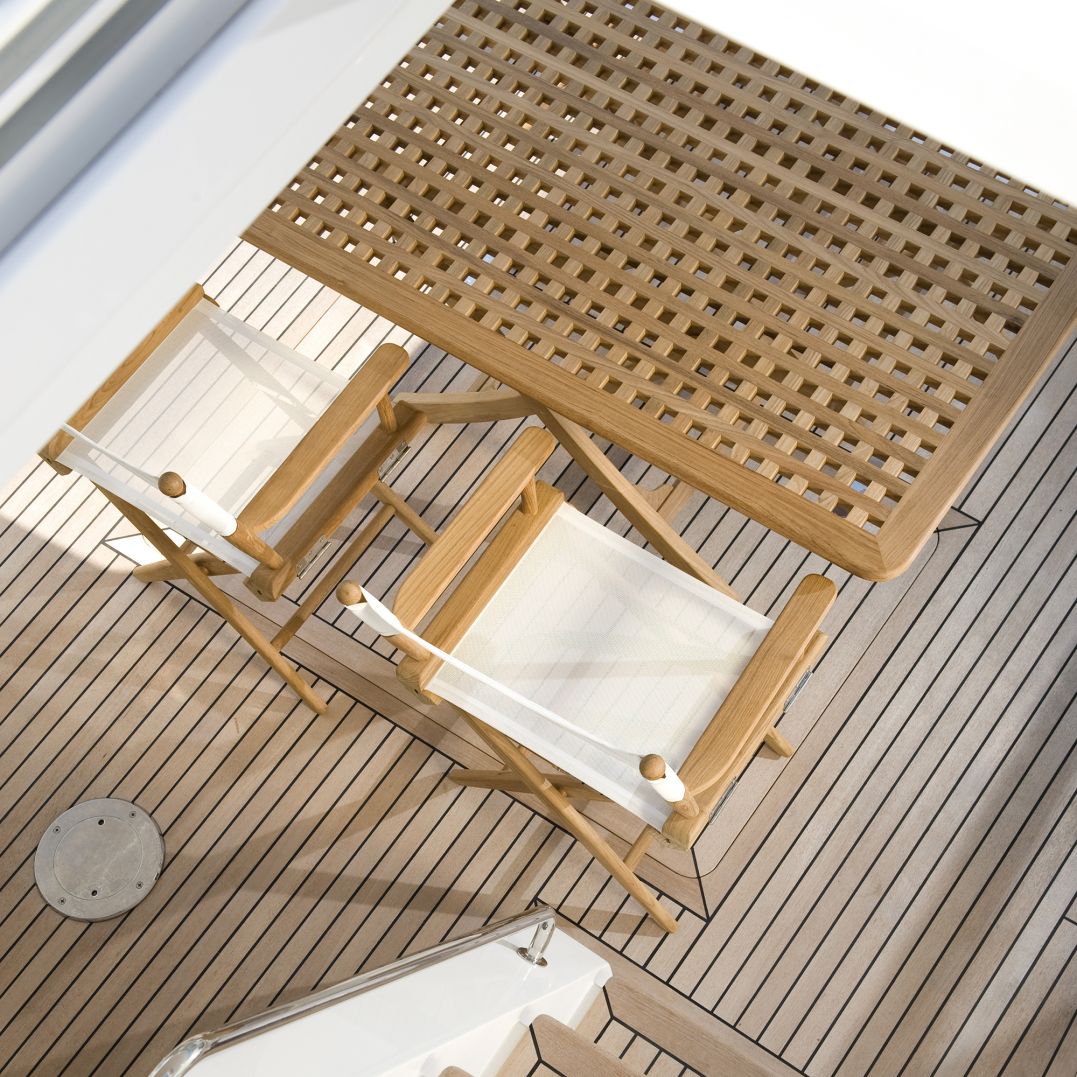 Unoiled teak treatment
At ARC Marine we distinguish between unoiled and oiled teak. 'Unoiled' indicates that we have pre-treated your item with oil, giving the wood a subtle lustre and proper protection. Our unoiled species are untreated and therefore have the most natural look. You may safely leave untreated teak items outdoors, even when it rains. In that case the wood will gradually turn greyish. If you like, you may leave it that way; the colour change does not affect or impair the quality of the wood. Would you prefer to restore the wood to its original brown? Then you may use Dulon Teak Clean & Brightener 42, in possible combination with Dulon Teak Degreaser 41 to remove stains and Dulon Teak Protector 43 to give your teak a protective coating after cleaning.
Tip! Treat your unoiled teak furniture with teak sealer or Dulon Teak Protector immediately after buying, to put off the colour changing process.
Teak oil treatment
Oiled teak furniture may be used both indoors and outdoors. But remember to apply a new oil coating regularly when you leave your teak furniture outside. Rain and sea spray will cause the oil layer to gradually vanish. To re-oil your teak furniture you may use ARC Marine's special teak oil. As this is a vegetable teak oil, it does not harm the environment. The solids content of this teak oil is 98%, so just one coating will generally be required. You can apply the oil using a soft, non-pilling cloth. Allow the oil to penetrate and rub out using a dry, soft cloth.
General tips for care of teak boat furniture
Never use tough bristles or pressure cleaners when cleaning your teak furniture. This will make the wood porous and remove its natural protective layer.

Use teak sealer to protect your teak from stains and discolorations.

Place teak boat furniture indoors after use if you want to prevent your teak turning greyish.

Always use coasters on your teak boat table tops to prevent stains and glass rings.

Have you spilled water, wine or soft drinks? Remove instantly using an absorbing cloth to prevent the liquid penetrating the wood.

Do not use chemicals for cleaning; use special products for teak care and maintenance.
Lacquered teak
You may also opt for lacquered teak. But you are advised against using lacquered teak furniture outdoors. The lacquer will be affected by rain and sunlight. Before you lacquer your teak table it must be cleaned, sanded and degreased. Oiled teak furniture must not be lacquered as long as the oil layer is still present. Whereas sunlight and water may have caused the oil coat to disappear to some degree, first sand and degrease the item before applying a lacquer coating.